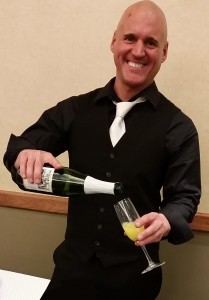 I was born and raised in Vermont. Attended Milton High School, and graduated from the University of Vermont. I began bartending at the age of 18 at the Sheraton Hotel and Conference Center and have been working in the customer service industry for over 20 years.
Northern Lights
• 7 Years of experience as the Lead Bartender aboard the Northern Lights. The newest and most elegant cruise ship on Lake Champlain.
Bar Manager Sugarsnap Bar Catering
• Built, from the ground up, one of Vermont's premier Bar Catering companies. This included the exclusive beverage service at the Echo Lake Aquarium and Science Center; one of Vermont's largest and most diverse event spaces.
As the leader in both positions I have over ten years of experience and knowledge coordinating, organizing, staffing, and executing bar service for every type of event imaginable.
Whether you are looking for bar service for an intimate small gathering, your wedding, a corporate holiday party for 300 people, or an epic 750 person Halloween party, 802 Cocktails has the knowledge, experience, and attention to detail to insure your special occasion is one to remember. Over the past ten years, I have executed:  birthday parties, bah mitzvah, bar mitzvah, corporate dinners, corporate cocktail parties, weddings, wedding receptions, award ceremonies, holiday parties, mixers, concerts, fundraisers, political gatherings, reunions, graduation parties, and anniversaries.
Please contact 802 Cocktails today for a 100% no obligation consultation. jason@802cocktails.com Get in touch with me today!